Event and Conference Summaries
99th Executive Council Session
The 41-member Executive Council (EC) of the Organization for the Prohibition of Chemical Weapons (OPCW) convened in The Hague from March 8 to March 11, 2022,  for the 99th Executive Council (EC-99) session. The Executive Council is responsible for promoting the effective implementation of and compliance with the Chemical Weapons Convention. 
This summary report will cover: 
Descriptions and key quotes of the major thematic topics discussed within the national statements of Council member states
Items of note, including: draft decisions, notes verbales, reports by the Director-General
Need a refresher on the OPCW, CWC, or Executive Council? Check out these short educational videos produced by the OPCW. The EC will typically meet 3 times annually with several additional special sessions. 
Major Themes and Key Quotes
Please note: selected quotes are not necessarily representative of the views of the CWC Coalition or any of its members. Quotes are selected to highlight the diversity of opinions in the OPCW, and we try to find quotes that summarize the views of more than one country. Quotes will not always reflect all view points – they serve an educational purpose, but are not intended to give the reader a full understanding of all perspectives on each of these complex issues.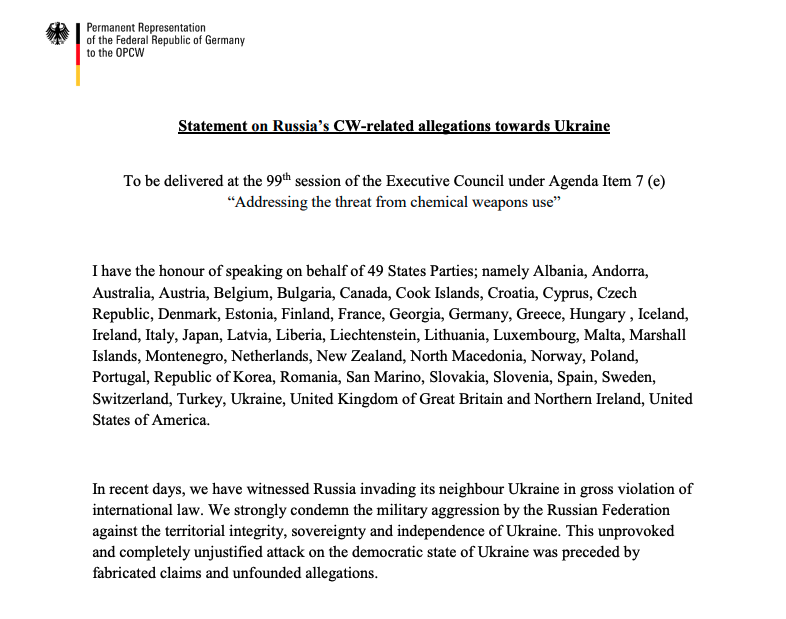 On behalf of 49 States Parties, Germany read a statement condemning Russian disinformation about chemical weapons in Ukraine. The joint statement pushed back against the "unsubstantiated claims that Ukraine was preparing aggressive action in the Donbas region" and once again reiterated calls for Russia to investigate the use of a Novichok nerve agent on its territory.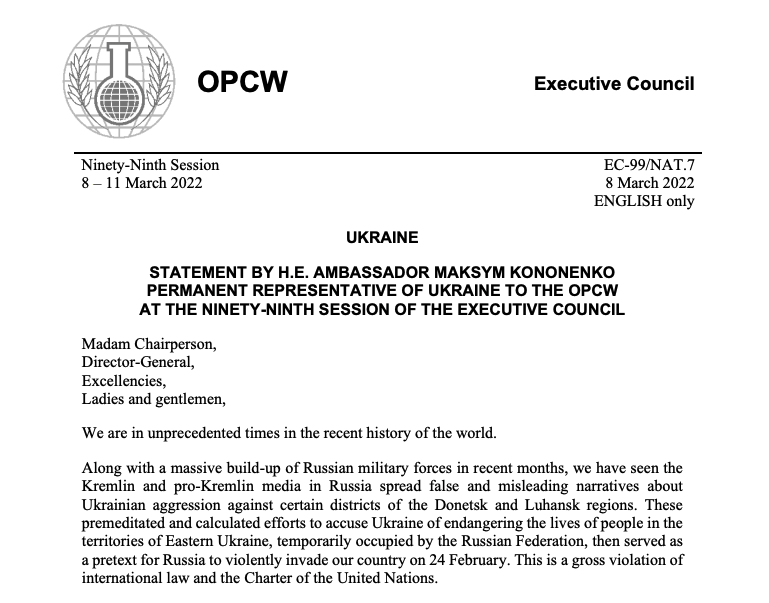 During Ukraine's national statement, the Ukrainian representative warned that there was "a possibility of provocation, such as blowing up industrial tanks with chemicals," and that "Russia would most likely accuse the Ukrainian military of this sabotage." Ukraine made it clear that, should anything happen, it will invoke Article X of the Chemical Weapons Convention, which calls for the delivery of "Assistance and Protection Against Chemical Weapons."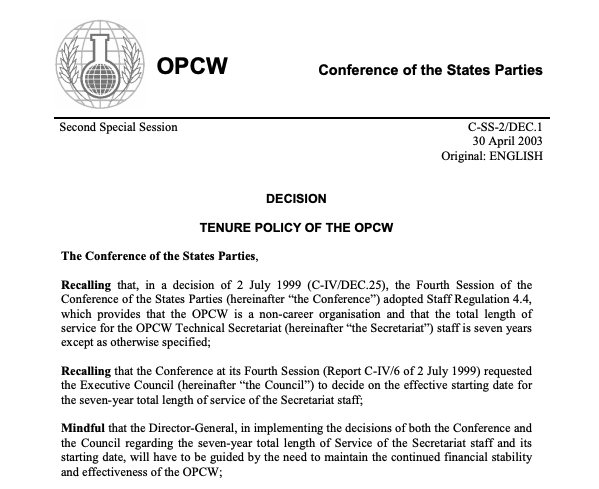 There are ongoing talks to amend the OPCW's tenure policy, which currently caps employees of the Technical Secretariat staff at 7 years. Many countries expressed interest in continuing this conversation, and nations such as Ghana highlighted the importance of ensuring geographic balance within the workforce. Despite proposed drafts, no consensus has been reached.